Thankfully, photographer
Tom van
Oossanen was on hand to capture the amazing scenes as Project 817, a 94-meter (310 feet) vessel built by the Dutch shipyard Feadship, was transported from its Kaag Island facility to the North Sea at Rotterdam last week. In a series of stunning images, the vessel, one of the largest to be launched in 2021, is guided through the water with tugboats,
passing by houses
and churches as crowds look on in amazement. According to Oossanen, around four to six superyachts are transferred along this route each
year
before going for sea trials, usually in Amsterdam.
However, few are as big as Project 817, likely known as Viva when it
officially launches
. Feadship's new superyacht Project 817 is guided through the canals of Holland while en route to the North Sea. Courtesy Tom van Oossanen "It's always
quite an operation," Oossanen tells
CNN Travel. "Everyone loves to see it." But these maneuvers lead to serious snarl-ups on land and water. Have you got a dentist appointment? "Then you're not going to make it," says Oossanen. "Sometimes it takes an hour to go through a bridge, and with the amount of traffic we have in Holland, it soon builds up." King Island is one of two Feadship shipyards based inland (the other is in Aalsmeer, near Schiphol,) which means
every yacht delivered from here must
be painstakingly pulled the same way.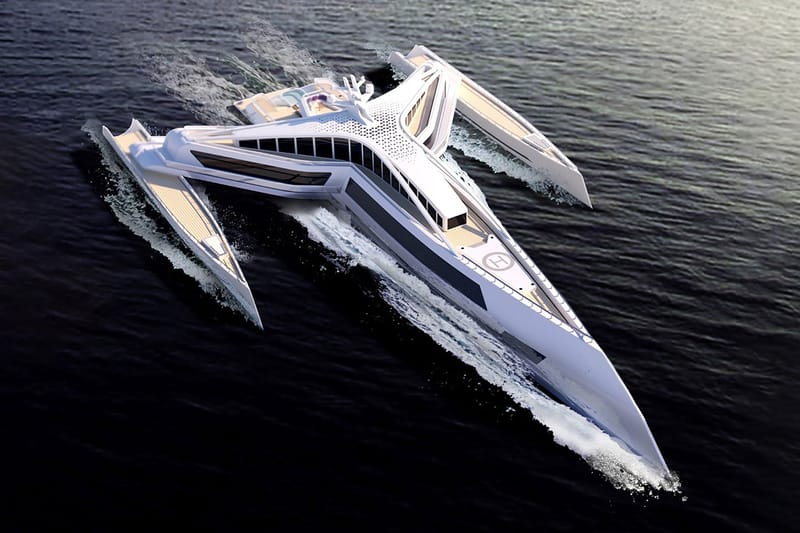 Tight fit
During the tricky journey, the 94-meter vessel is maneuvered across a bridge in Woubrugge. Courtesy Tom van Oossanen, "They [the two shipyards] are quite far from the North Sea, so to transport the yachts to sea, they must pass a small canal to Rotterdam," he explains. "There's only one way to go." Some parts of the canals along the route are only a few feet wider than Project 817, which spans 44.7 feet from port to starboard, so to say the transfer required great care and attention is an understatement.
"This boat has been fully designed to fit the waterway," says Oossanen, pointing out that he's only ever seen four superyachts of this size taking this same journey. "So they [the designers] probably couldn't add another centimeter to her length or another centimeter to her width. "They maximized the design by using the limitations of bridges and waterways, which is quite interesting," Feadship says the duration of a transfer depends on several different factors, such as the winds and bridge schedules, and can take two to four days. The transportation of Project 817 took around four days.
According to Feadship, a superyacht is usually guided to sea by a team of five experts and a crew on board. Courtesy Tom van Oossanen During the first stage of the operation, Viva was moved from the Kaag Island shipyard to Lake Braassemermeer, which was fitted with pontoons to raise it, thus ensuring it wasn't too deep to maneuver through the canals.